KDE Plasma Software Updater for openSUSE Tumbleweed
linux application
Tumbleweed Updater is a KDE plasmoid for openSUSE Tumbleweed that uses zypper as backend to check and install available software updates.
Click on the button below to install the package with 1-click install:

After installation you need to logout from the KDE plasma session and re-login to enable the applet, it is recommended to disable the old updater applet to avoid interference problems.
---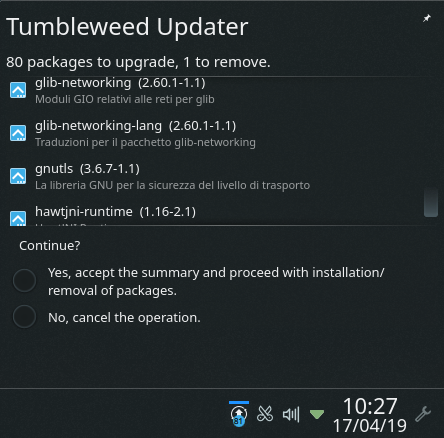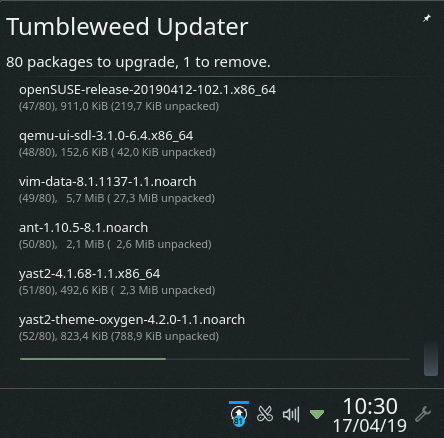 ---
Tumbleweed Updater features:
configurable updates check interval
desktop notifications
interactive EULA agreements
interactive package conflicts resolution
option to auto agree with licenses
option to auto resolve package conflicts
screen locker and suspend are disabled during updates to avoid possible problems
The plasma widget works as a frontend to zypper command line program, so if plasmashell crashes during the update process, zypper will continue to run and the applet will try to resume its connection with zypper.
In case of problems you'll be able to run the command
screen -r twupdater-zypper-dup
to access the session where zypper is running.
The software is released under the GPL 2 license and is in beta stage, you can report bugs or submit feature requests using the contact form.
Source code: tw-updater-plasmoid-1.0.5.tar.gz
GitHub page: https://github.com/ConteZero/tw-updater-plasmoid
openSUSE Build Service project page: https://build.opensuse.org/package/show/home:alucardx:plasma/tw-updater-plasmoid